Freedom Sale – Motorcycles
Offer Ends: 2019/02/28
2018 CRF110F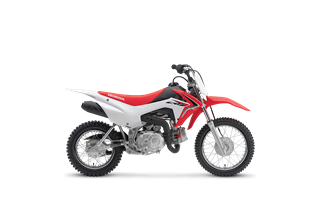 SAVE | $400
DETAILS
Tuned for the beginner Dependable air-cooled single-cylinder 4-stroke 110 cc engine is tuned for the beginning rider.
Maintenance-free CD ignition and automatic cam-chain tensioner simplify maintenance.
Four-speed gearbox with automatic clutch offers simple operation with easy, no-stall takeoffs.
Adjustable throttle limiter allows parents to tune performance to match rider ability.
Convenient electric starter with kickstart backup.
Quiet muffler won't annoy the neighbours.
2017 CBR600RR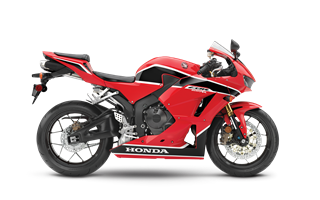 SAVE | $2000
DETAILS
Liquid-cooled DOHC 16-valve 599 cc inline-four engine features oversquare bore and stroke dimensions of 67 mm x 42.5 mm, which contributes to its high-revving, quick-accelerating nature. The lightweight forged-aluminum pistons incorporate special shot peening for added toughness, and oil jets beneath the pistons provide additional friction reduction and cooling.
High-revving engine redlines at 15,000 rpm. The cylinder head features angled valve insets to improve airflow. Two springs per intake valve and one spring per exhaust valve, plus direct shim-under-bucket valve actuation, help to ensure optimum high-rpm valve operation and durability. A double-pivot cam-chain tensioner provides additional durability.
The Dual Stage Fuel Injection (DSFI) system features 40 mm throttle bodies and two injectors per cylinder — one upper and one lower — controlled by an electronic control system (ECU) that senses rpm and throttle opening.
The Intake Air Control Valve (IACV) minimizes torque reaction and smoothes response to small throttle changes through gradual reductions of air and fuel intake when the throttle is opened and closed.
The smooth-shifting close-ratio six-speed transmission is closely matched to the engine's powerband.
2018 CRF125FB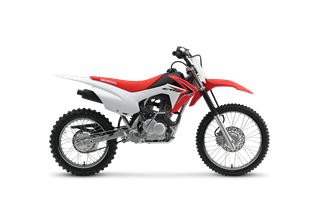 SAVE | $400
DETAILS
Durable, simple, low-maintenance, 124.9 cc air-cooled single-cylinder 4-stroke engine develops the smooth, tractable power that's ideal for beginners.
Ultra-reliable electronic ignition simplifies maintenance.
20 mm carb with light throttle action.
Closed crankcase vent system safeguards against engine oil contamination.
Primary kickstarting for easy starts in any gear.
Lightweight, upswept, competition-type exhaust system utilizes a quiet muffler/spark arrester.
Convenient electric starter makes starting a breeze.
Enter in your information below to receive this offer