Season of Savings – Motorcycle
Offer Ends: 2018/12/31
GIVE THE GIFT OF ADVENTURE THIS SEASON.
'Tis the season to give your loved ones a gift they'll never forget—make it happen with Honda.
With the Season of Savings Event, you'll find the perfect deal on select 2018 models that will bring years of adventure to come.
2018 CRF110F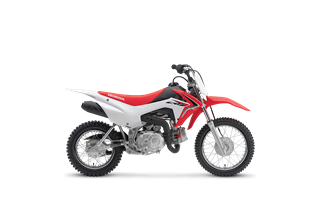 SAVE:
$400
MSRP: Starting from $2,699
Tuned for the beginner: Dependable air-cooled single-cylinder 4-stroke 110 cc engine is tuned for the beginning rider.
Maintenance-free CD ignition and automatic cam-chain tensioner simplify maintenance.

No-stall take-offs: Four-speed gearbox with automatic clutch offers simple operation with easy, no-stall takeoffs.

Parental control: Adjustable throttle limiter allows parents to tune performance to match rider ability.

Easy start: Convenient electric starter with kickstart backup.

Not too loud: Quiet muffler won't annoy the neighbours.
2018 CRF125FB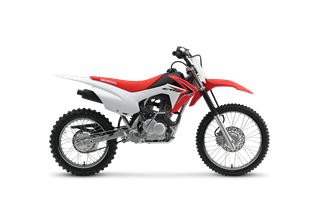 SAVE: $400
MSRP: Starting from $3,849
Ideal for beginners - Durable, simple, low-maintenance, 124.9 cc air-cooled single-cylinder 4-stroke engine develops the smooth, tractable power that's ideal for beginners.
Ultra-reliable electronic ignition simplifies maintenance.
20 mm carb with light throttle action.
Closed crankcase vent system safeguards against engine oil contamination.
Primary kickstarting for easy starts in any gear.
Lightweight, upswept, competition-type exhaust system utilizes a quiet muffler/spark arrester.
Durable, smooth-shifting four-speed transmission

Smooth – from stand-still to start: Heavy-duty manual clutch with light, smooth, progressive engagement.

Convenient electric starter makes starting a breeze.
2019 CRF230F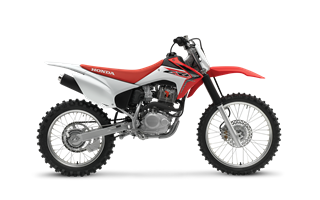 SAVE: $400
MSRP: Starting from $4,999
Dependable 223 cc single-cylinder air-cooled 4-stroke engine offers plenty of user-friendly power and torque, spread over a wide rpm range.
28 mm carburetor for crisp throttle response.
Electric starter for ease of starting.

Maintenance-free type CD ignition.

Heavy-duty clutch with smooth, progressive engagement.
Smooth-shifting and versatile six-speed transmission.
Heavy-duty O-ring-sealed chain for increased durability and reduced maintenance.
Enter in your information below to receive this offer