Get Onboard Marine Sale
Offer Ends: 2019/03/31

It's time to get onboard with Honda Marine
Experience the confidence, reliability and proven performance of Honda outboards during the Honda Get Onboard Event. Designed to be quiet, fuel-efficient and environmentally responsible, Honda outboards deliver dependable power you can count on for years to come – now with great offers you won't be able to resist.
BF90 MARINE OUTBOARD
Our most advanced technology in a mid-range outboard. Variable Valve Timing & Lift Electronic Control (VTEC®) automotive technology, Boosted Low-Speed Torque (BLAST®), Multi-Port Programmed Fuel Injection (PGM-FI®) and High-Performance Gearcase maximize performance, and with Lean Burn Control®, it can run on a leaner mix of air and fuel, making it very efficient.
The BF90 does not come with a propeller.
BF15 MARINE OUTBOARD
With a compact size just slightly larger than the BF9.9–but with more power–the BF15 is perfect for aluminum fishing boats, inflatables, sailboats or as a kicker for larger fishing boats. It has one of the largest displacements in its class, giving you big performance, and the added reliability of 4-Front Corrosion Protection and Engine Alert System
BF2.3 MARINE OUTBOARD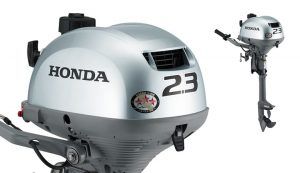 The world's lightest 4-stroke outboard with world-class fuel economy, the BF2.3 is ideal for tenders, small fishing boats or as auxiliary power. Quiet and simple to run with its automatic clutch, it also gives you incredible versatility and convenience thanks to the Shallow-Water Drive, Fold-Down Tiller Handle and Integrated Fuel Tank.
Enter in your information below to receive this offer